Columbia Basin Redband
Oncorhynchus mykiss gairdneri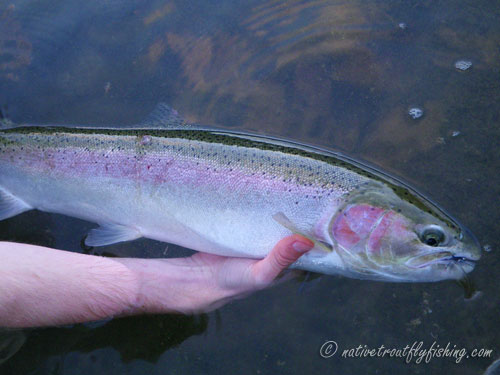 A wild Columbia Basin Redband Steelhead from Eastern Washington
Introduction
Columbia Basin redbands or redsides, as they are commonly called are native to the Columbia River basin east of the Cascade Mountains and the upper reaches of the Fraser River drainage in Canada. Historically redbands were native to a number of popular fisheries such as the Yakima River, Spokane River in Washington, and the Deschutes River of Oregon. However they have been greatly displaced from much of their native range dueto the introduction of nonnative fish.
Life History Information
Columbia Basin redband trout exhibit stream resident, fluvial, lacustrine and anadromous (redband steelhead) life history strategies. Like all native rainbow trout, Columbia Basin redbands spawn during the spring, with most of the spawning activity in the Columbia Basin taking place between April and June. Redband steelhead generally have to travel much further inland than coastal steelhead to reach their spawning sites and while they are iteroparous very few of these fish actually survive to spawn a second time. According to Behnke (2002) only one percent of less of redband steelhead in the Columbia and Snake Rivers return to spawn a second time. Unlike coastal steelhead, which have winter and summer runs, redband steelhead only have a summer run with fish returning to the Columbia River from between May and September.
After hatching, juvenile redband steelhead typically two to three years rearing in their natal stream prior to migrating out to the ocean, during which time typically feed mainly on aquatic insects. However anadromous redband parents may give rise to stream resident offspring or vice versa. Those fish that do exhibit the anadromous life history spend between a year and a half and two and a half years travelling the ocean in search of food. Little is known about differences in the habits of redband and coastal steelhead at sea, but it is believed that they exhibit similar tendencies. As such it is thought that the diet of redband steelhead at sea is comprised mostly of fish and squid (LeBrasseur 1966).
Stream resident Columbia Basin redbands generally have an average size of between six and ten inches and spawn at around two years old, with a life span of three to four years of age. Their preferred habitat is generally low gradient, medium elevation stream reaches with an abundance of complex pools (Muhlfeld et al. 2001). Throughout much of their range it is common for a stream to contain both Columbia Basin redband and westslope cutthroat, with the redbands typically concentrated in the lower to mid reaches and the cutthroat found in the upper reaches of the streams. Columbia Basin redbands found in the arid portions of their range are known to have a higher tolerance to function at high temperatures in comparison to other salmonids (Behnke 1992). Zoellick (1999) showed that Columbia Basin redbands native to the Owyhee River drainage in Idaho can survive in temperatures up to 29°C (84.2°F).
The Kamloops rainbow trout is a lacustrineform of these fish that was long considered to be taxonomically distinct and was formerly classified as Oncorhynchus mykiss kamloops. These fish are found in the large lakes of the upper Columbia and Fraser Rivers in Canada and are known for their large sizes. The Gerrard strain of these fish, which is native to Kootenay Lake have a genetic predisposition for reaching large sizes and there are records of these fish being caught that weighed as much as 52 pounds (Behnke 2002). Small redbands in Kootenay Lake rely mostly on aquatic and terrestrial insects, but once these fish are large enough their diet shifts and kokanee which are also found in the lake make up the major of their food supply (Irvine 1978).
Status
Columbia Basin redbands have suffered from the same issues that have plagued many other western trout as well as those effecting salmon. Like with the Pacific salmon overfishing, habitat destruction, hydroelectric dams, and competition or even hybridization with hatchery fish have all been major causes of their decline. Throughout the entire Columbia Basin anadromous populations of redband are considered to be threatened with extinction. According to NOAA (2007) there are three genetically distinct populations of anadromous redbands in the Columbia basin. Of these populations the upper Columbia Basin steelhead are listed as endangered, and the Snake River and Mid-Columbia Basin redbands are listed as threatened under the ESA (NOAA 2007). Stream resident and lake dwelling Columbia Basin redband trout have been most heavily impacted from the introduction of non-native trout. In the Yakima River drainage hybridization has taken place with hatchery rainbow trout, resulting in fish that appear as in intermediate of Columbia Basin redband and hatchery rainbow trout in the mainstream of the river (Campton and Johnston 1985).
Description
Columbia Basin redband trout got the name redband from the red colored stripe that they have along their lateral line. These fish usually have large spots spread across their body and fins, although some populations have their spots sparsely concentrated above their lateral line. Like other fish in the rainbow trout lineage, they have rosy colored gill plates. The coloration of these fish tends to be greenish olive on the back transitioning to a yellow or even an orange coloration on their lower half. Lacustrine and anadromous populations of redbands display a silvery coloration while found in their lake or oceanic environments. However their silver coloration fades to the colors typical of fish found in a stream resident population as spawning approaches. These fish may display yellow or orange colored slashes under their lower jaw, which has historically led to taxonomic confusion with cutthroat trout.
Stream Resident Form
Click on images to view a larger picture
Fluvial Form