San Juan Cutthroat
Oncorhynchus virginalis ssp.
San Juan Cutthroat from a small stream in southwestern Colorado.
Introduction
The San Juan Cutthroat are native the San Juan River watershed of Colorado, New Mexico, as well as a small part of Utah and Arizona. Although Cutthroat were never documented in Arizona, the streams of the Chuska Mountains are now inhabited by nonnative trout and almost certainly once held San Juan Cutthroat and Dr. Robert Behnke noted that Rainbow Trout specimens that he observed from the Chuska Mountains in the 1970's had hybrid characteristics with Cutthroat (Behnke 1979, Behnke 2002). Additionally, there is anecdotal evidence that San Juan Cutthroat once inhabited the streams of the Abajo Mountains in Utah (Trotter 2008). San Juan Cutthroat were first documented in 1874 when two specimens were collected by C.E. Aiken near Pagosa Springs Colorado during the Wheeler Survey (CPW 2018, Rogers et al. 2018). For years the San Juan River Cutthroat went unrecognized as a distinct subspecies of Cutthroat Trout (Behnke 1992, Behnke 2002, Trotter 2008), and it was only after a genetic analysis of the museum specimens was conducted that they were determined to represent a unique lineage (Metcalf et al. 2012). Based on the results of the genetics work, San Juan Cutthroat are most closely related to the Colorado River Cutthroat (Green lineage) (Metcalf et al. 2012) but are unique enough to be considered their own subspecies (Trotter et al. 2018). Unfortunately, at the time of the genetic analysis, there were no known populations of San Juan Cutthroat remaining and they were believed to be extinct (Metcalf et al. 2012, Rogers et al. 2018a). However, with a genetic baseline from the museum specimens, the Colorado Department of Parks and Wildlife, conducted an extensive surveys of Cutthroat populations in the San Juan basin and discovered eight small remnant populations of pure Cutthroat that matched the genetic signature of the museum specimens (Rogers et al. 2018b). Since the rediscovery of the San Juan Cutthroat in 2018, Colorado Parks and Wildlife has established a recovery program for them and although this program is still in its infancy, the department has already begun reintroducing them into several streams across their native range.
Life History Information
The San Juan Cutthroat historically occurred as stream resident and fluvial populations and some adfluvial populations likely also occurred in some of the alpine lakes across their range. Today all remaining populations are found in small isolated tributary streams and exhibit stream resident life histories. With the San Juan Cutthroat only rediscovered in 2018, very little specific information is available about these trout. However, it is assumed that they have a similar life history to Colorado River Cutthroat and are opportunistic generalists, foraging on both aquatic and terrestrial invertebrates when available. The streams of the San Juan basin can be extremely productive and while most of the fish in the small, isolated stream resident populations only reach a maximum size of 12" (30 cm), I caught one San Juan Cutthroat from a small southwestern Colorado stream that was every bit of 15" (38 cm). While specific age data on San Juan Cutthroat is not available, it can be assumed that their life span is similar to that of stream resident Colorado River Cutthroat with a maximum age of 6 or 7 (Trotter 2008). Like other Cutthroat of the Colorado River basin, San Juan Cutthroat spawn during the spring, with peak spawning activity likely occurring in May or June as runoff is subsiding. It is also believed that like Colorado River Cutthroat, male San Juan Cutthroat spawn for the first time at age-2, while females spawn for the first time at age-3 or older (Trotter 2008). No information is available on the life history historic fluvial populations that once inhabited the mainstem San Juan River and its tributaries such as the Animas and Mancos watersheds, but historical accounts suggest that they were once plentiful in these watersheds (Trotter 2008). What little can be gleaned from historic accounts suggests that fluvial fish averaged 12" to 16" (30 to 41 cm), but that they could reach much larger sizes with reports of trout up to 26.5" (cm) and 9 lbs. (2.7 kg) (Labrax 1881, Field and Farm 1885). Fluvial San Juan Cutthroat were noted to prefer pools to riffles, a trait that also seems to be common to stream resident populations, which seem to prefer slower water towards the back of pools or pockets over the faster water at the head of pools. Historic accounts also document that spawning runs commenced after spring runoff and that the fishing season did not begin until July 1st to protect spawning fish. While fluvial populations utilized the cooler upper reaches of the San Juan River during the summer months, starting in August or September they were reported to migrate downstream into New Mexico to overwinter (Labrax 1881). There is even less information on adfluvial populations in the San Juan basin, but larger lakes such as Emerald Lake in the Los Pinos watershed which was noted for large and abundant Cutthroat and was used as an egg-take station for stocking in other waters and the myriad of smaller alpine lakes suggest that the life history form once existed in the basin.
Status
The upper San Juan River and its tributaries were historically noted as exceptional streams for native Cutthroat, with early authors indicating that a 100 fish day was a simple task (Labrax 1883). However, within a few decades of these early reports the San Juan Cutthroat had vanished from nearly all its native waters and when it was identified as a unique subspecies of Cutthroat in 2012 it was believed to have been completely extirpated (Metcalf et al. 2012, Rogers 2012). Luckily, a handful of small, isolated populations of San Juan Cutthroat did manage to hang on in just 9.25 miles (14.9 km) of stream habitat and were rediscovered after their genetics were compared against museum specimens Rogers et al. 2018), but how was the San Juan Cutthroat so thoroughly eliminate from almost its entire native range over a relatively short period of time.
Even as far back as 1877, outdoor writers discussing the San Juan Cutthroat indicated that habitat destruction from mining, logging and agriculture were taking their toll on the San Juan Cutthroat. Examples of this include rivers noted as being chocked with sawdust from the upstream mills and streams becoming too toxic with heavy metals and mine tailings to hold trout. Agriculture also took its toll as fluvial populations migrating between overwintering, spawning and summer foraging habitat through the year making them particularly susceptible to become entrained unscreened irrigation canals. Additionally, fishing pressure was extremely high with trout being a cheap means by which to feed the burgeoning cities and mining camps. For example, as the city of Durango rose to existence in the 1880's, the Cutthroat of the nearby La Plata River were noted to have nearly vanished in just a three-year span due to destructive over-fishing from mining camps (Labrax 1883).
As these impacts depleted native trout populations, early fisheries managers turned to introducing non-native trout to supplement the fisheries, which in turn ended up being the final nail in the coffin for the San Juan Cutthroat. Introductions of Rainbow, Cutthroat (Green River (Trappers Lake stock), Rio Grande and Yellowstone Cutthroat), Brook Trout and Brown Trout all became established throughout the watershed as early as the 1890's. The San Juan Cutthroat did not evolve with any other salmonids and as such they are poorly equipped to compete with introduced species, which resulted in the rapid replacement of fluvial populations by Rainbow and Brown Trout, while stream resident populations were replaced by Brook Trout, Rainbow Trout, and other Cutthroat Trout. Brook Trout and Brown Trout are particularly problematic as competitors as they spawn in the fall, providing their offspring with a jump start on native Cutthroat which emerge later in the season (Trotter 2008). On top of this, Brown Trout reach large sizes and are highly piscivorous often feeding on other trout such as Cutthroat. Rainbow Trout and other Cutthroat subspecies add another layer of complexity to the impacts of non-native trout as they can interbreed with the San Juan Cutthroat and produce viable hybrids, resulting in a loss of genetic integrity of native populations. In fact, of the 9 populations that have been found with San Juan Cutthroat, one has some hybridization with both Rainbow Trout and Green River (Trappers Lake strain) Cutthroat, one has hybridization with Rainbow Trout in its lower reaches and another that was assumed to be pure was recently determined to have some Rainbow Trout influence (Rogers 2020, Rogers 2021, Rogers 2022).
With the San Juan River Cutthroat only being rediscovered in 2018, they remain in an extremely precarious situation as early recovery efforts begin. Luckily restoration efforts were unknowingly provided a jump start due to the thinking of biologists like Mike Japhet, whose team discovered a small population of Cutthroat in a remote headwater stream in the San Juan basin in the late 1970's. Based on the remote habitat in which these Cutthroat were found, Mike Japhet decided they were worth protected and transplanted some fish into a nearby fishless stream. As it turned out the population that Mike Japhet had replicated ended up being one of the few remaining native San Juan River Cutthroat populations and his work helped to protect these trout into the future. However, tenuous nature of these fish was put on full display shortly after their discovery in 2018, when the 416 Fire north of Durango burned through 52,778 acres threatening the two populations that Mike Japhet had helped protect. With ash washing into other nearby streams and so few San Juan Cutthroat populations remaining, CPW and USFWS crews made the call to hike into the two streams and rescue nearly 60 Cutthroat, which were brought to the state hatchery in Durango so that then could be spawned and then reintroduced into streams throughout the San Juan basin. The efforts to establish a broodstock from these trout were successful and the fish were spawned for the first time in 2020. The first target for reintroductions was Wolf Creek, which has a 200-foot waterfall that will provide a natural barrier to invading nonnative species like Rainbow, Brook, and Brown Trout. This project hit the ground running, with non-native trout fully removed from the South Fork of Wolf Creek in 2018, followed by part of the mainstem of Wolf Creek down to another barrier waterfall in 2021. With the nonnative trout removal efforts successful, San Juan Cutthroat were reintroduced to the watershed during the summer of 2022, in a significant recovery milestone. The final phase of the Wolf Creek project will be to extend the non-native trout removal down to the 200-foot waterfall, continue to stock the new habitat with San Juan Cutthroat and monitor the population for successful reproduction. It is hoped that this first project will find success and provide a template for future efforts to bring these beautiful Cutthroat back to more of their native range over the coming decades.
Description
Like the Colorado River Cutthroat, San Juan Cutthroat are often brilliantly colored, making them one of the most striking subspecies of Rocky Mountain Cutthroat. The coloration of the San Juan Cutthroat typically ranges from a greenish-olive to brassy color on the back and transitions to an orangish-yellow or bronze color along the sides. Some individuals exhibit a band of pink or red along their lateral line, which may be interrupted by the parr marks and an orangish-red to rosy color on their gill plates. The bellies on some fish, especially sexually mature males exhibit a bright orange or peach coloration. The spots on San Juan Cutthroat are typically concentrated towards the caudal fin and primarily found above the lateral line. Generally, spots closer to caudal peduncle large, with most fish having medium to small somewhat irregular shaped spots, often giving them a "freckly" look. Additionally, spots may be found on the dorsal, adipose, caudal, anal, and pelvic fins and the lower fins are typically an opaque pink to peach color. San Juan Cutthroat generally have 9-11 oval shaped parr marks along their lateral line, which begin to fade as they reach maturity. Like other Cutthroat, San Juan Cutthroat exhibit a bright orange "cutthroat" slash under their jaw.
Stream Resident Form
Click on images to view a larger picture
Native Range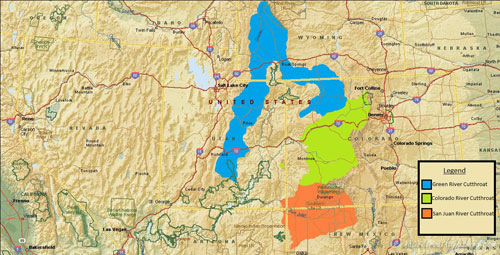 A map of the original native range of the Green River (Blue Lineage), Colorado River Cutthroat (Green Lineage) and San Juan Cutthroat Trout. Data Source: Behnke (2002) and Trotter (2008).Below: A map of the native range of the San Juan Cutthroat Trout.
References
Behnke, R.J. 1979. Monograph of the native trouts of the genus Salmo of western North America. U.S.D.A. Forest Service, Rocky Mountain Region, Lakewood, Colorado.
Behnke, R. J. 1992. Native trout of western North America. American Fisheries Society Monograph 6. American Fisheries Society, Bethesda, Maryland.
Behnke, R. 2002. Trout and Salmon of North America. Chanticleer Press, New York.
CPW. 2018. Native Cutthroat Trout: Rediscovery of the San Juan River basin's native trout. Colorado Parks and Wildlife. Fort Collins, Colorado.
Field and Farm, 1895. Sports Afield.
Labrax. 1881. The Rocky Mountain Trout of Colorado. Pages 10-11 in Harris, W.C. (editor) The American Angler 1(1).
Labrax. 1883. The Colorado Trout-Rocky Mountain Trout (Salmo virginalis). Page 406 in Harris, W.C. (editor) The American Angler 3(26).
Metcalf, J.L., S.L. Stowell, C.M. Kennedy, K.B. Rogers, D. McDonald, J. Epp, K. Keepers, A. Cooper, J.J. Austin and A.P. Martin. 2012. Historical stocking data and 19th century DNA reveal human induced changes to native diversity and distribution of cutthroat trout. Molecular Ecology 21(21): 5194-5207. https://doi.org/10.1111/mec.12028
Rogers, K. B. 2012. Piecing together the past: using DNA to resolve the heritage of our state fish. Colorado Outdoors 61(5):28-32.
Rogers, K.B., K.R. Bestgen, S.M. Love Stowell and A.P. Martin. 2018a. Cutthroat trout diversity in the southern Rocky Mountains. Pages 323-341 in P. Trotter, P. Bisson, L. Schultz and B. Roper, editor. Cutthroat Trout: evolutionary biology and taxonomy. American Fisheries Society, Special Publication 36, Bethesda, Maryland.
Rogers, K.B., J. White and M. Japhet. 2018b. Rediscovery of a lost Cutthroat Trout lineage in the San Juan Mountains of southwest Colorado. Colorado Parks and Wildlife. Steamboat Springs, Colorado.
Rogers, K.B., 2020. Cutthroat Trout studies: 2020 progress report. Colorado Parks and Wildlife. Fort Collins, Colorado.
Rogers, K.B., 2021. Cutthroat Trout studies: 2021 progress report. Colorado Parks and Wildlife. Fort Collins, Colorado.
Rogers, K.B., 2022. Cutthroat Trout studies: 2022 progress report. Colorado Parks and Wildlife. Fort Collins, Colorado.
Trotter, P. 2008. Cutthroat: Native Trout of the West. Second Edition. University of California Press, Berkley, CA.
Trotter, P., P. Bisson, B. Roper, L. Schultz, C. Ferraris, G.R. Smith and R.F. Stearley. 2018. A special workshop on the taxonomy and evolutionary biology of cutthroat trout. Pages 1-31 in Trotter P, Bisson P, Schultz L, Roper B (editors). Cutthroat Trout: Evolutionary Biology and Taxonomy. Special Publication 36, American Fisheries Society, Bethesda, Maryland.