Pit River Redband
Oncorhynchus mykiss stonei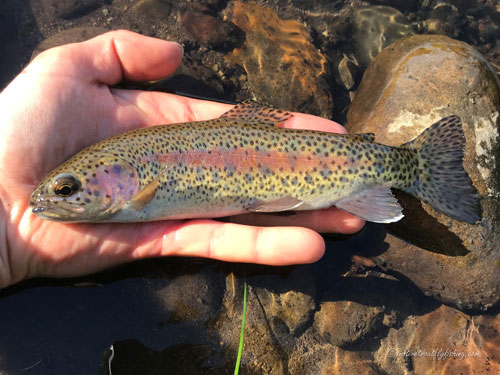 A Pit River Redband from a small stream in Northern California.
Introduction
The Pit River Redband Trout is native to the Pit River in Northern California, and its tributaries above Pit River Falls. As Goose Lake has overflowed into the Pit River as recently as the late 1800's there has been genetic exchange between Goose Lake Redbands and those in the Pit River and as such Pit River Redbands appear to be an intermediate form between the Sacramento Redbands and Great Basin Redbands, with the Redbands in the upper basin being most closely related to those in the Goose Lake Basin (Behnke 2002, Currens et al. 2009).
Life History Information
The Pit River Redband Trout exist as stream resident and fluvial populations in the Pit River and its tributaries above the Pit River Falls of the Pit River. No formal life history studies have been conducted on these Redbands. Stream resident fish are drift feeders with a diet consisting of aquatic and terrestrial insects. These fish likely have a maximum size around 12" (30 cm).
Status
Very little is known about the Redband Trout in the Pit River. Hatchery Rainbow Trout were stocked extensively throughout the basin and much like with the McCloud River Redband Trout, there has been extensive mixing between hatchery and native fish, with fish in the main stem being highly introgressed. In addition, the basin has been highly impacted by agricultural activities, with extensive channelization, water diversions and withdrawals and as well as downcutting and sedimentation occurring (Moyle et al. 2017).It is thought that only remnant populations remain today, found in isolated tributary streams.
Description
Pit River Redband Trout have an olive or bronze coloration on their backs. Their sides are a yellowish to golden color that may be quite intense and fades toward the ventral region, with an orange coloration found on the bellies of some sexually mature individuals. A pink to brick red stripe is found along their lateral line and their gill plates are a rosy or brick red color. Pit River Redbands are heavily spotted above the lateral line and have a few spots below. Purplish colored elliptical shaped parr marks are often retained into maturity on stream resident fish but fade on migratory fish. The dorsal fin may be tipped with either orange or white and the lower fins are tipped with white.
Stream Resident Form
Click on images to view a larger picture
Native Range
A map of the native range of the Pit River Redband Trout.
References
Behnke, R. 2002. Trout and Salmon of North America. Chanticleer Press, New York.
Currens, K.P., C.B. Schreck and H.W. Li. 2009. Evolutionary ecology of redband trout. Transactions of the American Fisheries Society 138: 797–817.ODFW. 2005. Oregon native fish status report. Oregon Dept. of Fish and Wildlife, Salem, OR.
Moyle, P.B., R.A. Lusardi, P.J. Samuel and J.V.E. Katz. 2017. State of the salmonids: status of California's emblematic fishes 2017. Center for Watershed Sciences, University of California, Davis and California Trout, San Francisco, CA. 579 pp.